Influenster
. It came right before Christmas, so I didn't have time to really enjoy it right away.
In the box, there was a Goody Quik Style Microfiber Paddlebrush
This brush does cut down the drying time on my hair, but I don't love it. I think that if I had it in a normal brush, I would like it better. I am just not a fan of huge brushes. I do find that it is also hard to make fibers fluff back up after getting wet. If anyone has one and has tips to fixing this issue, let me know!
There was a set of nail sticker decals
I have her used these things or had the desire to try them. I just don't see spending the money for one manicure when I can do hundreds with one bottle of nail polish. I also prefer to do nail art that is one of a kind. But, since the ones I got we're gold and glitzy, I thought I would try them for New Years Eve. I actually was surprised with how easy they were. It was kind of nice to have a fancy manicure with no dry time :) One con was that they seemed to wrinkle over time. The photo i took was on day two of this manicure. those wrinkles weren't there on day one. This could be 100% due to user error, though. I followed the instructions and it went so much faster than expected! But I may have stretched them or something and it caused them to wrinkle. The other con was removal. It says to just peel them off. But it made some of my nails peel. Not bad, but enough to bother me. I wonder if a base coat would have prevented this, but the directions said to apply to nails cleaned with alcohol or remover, so I used nothing as a base. I can't say if they really would last for 10 days or not. I had them on for 3 and one did tear at the edge a bit. But I can't look at the same nails for 10 days :)
There was an NYC New York Color Liquid Lipshine in #582.
I couldn't find an actual name anywhere on it, but it is a shimmery nude color. Really pretty alone or over a lipstick. I really like it so far. It isn't sticky at all. I am not sure how long it lasts yet because I have only worn it once and didn't really test it.
There were also a couple of food items in my box:
This Eboost energy drink was quite honestly....awful. I hate to say that about anyting I was lucky enough to receive, but it was. I couldn't even get past one sip of it. I got the Pink Lemonade, which is a popular flavor in my house and not one person was willing to take more than a tiny taste of it. I can't say if it had any benefits or not. I understand that everything can't be super yummy, but this had the worst taste and an even worse after-taste. Wouldn't even consider paying $39 for 30 packets.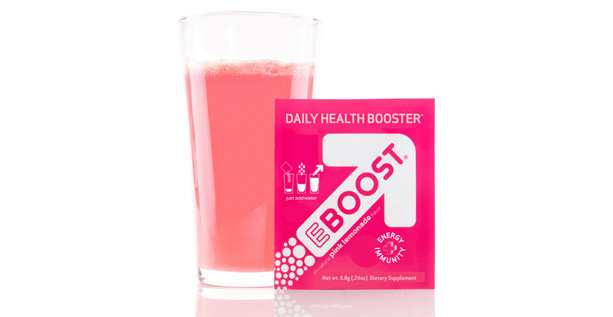 Now the Quaker Real Medleys Oatmeal was SUPER yummy. I love oatmeal anyways, but this was the best I have ever tried. I love that it is in a cup and you just need to add water. Works great for me to take to work. I can just add hot water and enjoy my breakfast right in my office :) Will definitely be buying more of these!
Finally, I received a coupon code for
Sole Society
for $25 off my first pair of shoes. I love shoes and they have some fantastic ones! I am for sure going to do some shopping with them! I originally thought that this was an exclusive code for those of us that received this box, but I just saw Influenster post it on FaceBook today. So, I will share with all of you!
INFLUENSTER25
is good until January 31, 2013.
Again, I want to thank all of the companies and Influenster for letting me participate in the Holiday VoxBox!
**disclaimer: these items were all sent to me for free. The opinions are my own, I was not paid money to do this review. Some of the photos were borrowed from the company websites**